Using mobile phones when driving: the law
Mobile Phone Driving Offence
The use of any hand held mobile phone or similar handheld communication device while driving is  prohibited and attracts 3 penalty points and a fine the level of which will depend on whether or not you were driving a vehicle intending to carry 8 or more passengers at the time of the offence. It is intended to increase the penalty points to 6 in the near future in order to deter drivers from using phones while driving as many seem to continue to do so.
What does "using" a mobile phone mean? :
Holding it at some point in order to make or receive a phone call or to perform any other interactive function. This would include texting, reading a text, using the internet or downloading photos. It would not include a function such as dictating.
The law applies to other handheld devices that transmit or receive date such as a SatNav or iPod/iPad.
If you want to use your mobile while driving ensure you have installed an appropriate hands free kit. You will not fall foul of this law as long as you do not have to pick up the mobile handset to operate it.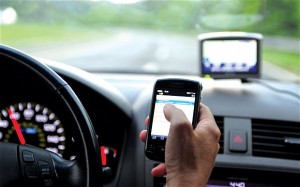 Handheld devices don't just include mobile phones. Using  any handheld electronic device is covered by the same offence. Even programming in a built in Sat Nav can result in prosecution for not being in proper control of your vehicle.
The use of the phrase "whilst driving" can also be used to cover a stationary vehicle with its engine running. For example, if you're at the traffic lights whilst the light is on red you can still be convicted of a driving whilst using a mobile phone even if you're not moving.
Usually a police officer will give evidence to say that you were driving whilst holding a mobile phone up to your ear. The key to cases of this nature is to put some doubt in the mind of the Court to try and obtain a not guilty verdict. However, with more and more drivers texting while driving, police are on the look out for drivers who appear to be looking down at their phones too.
Using a hand-held mobile phone in your vehicle
You can only use your mobile phone in a vehicle:
To call 999 or 112 in response to a genuine emergency where it is unsafe or impracticable to stop
If you are safely parked
If you are a passenger
For more advice and information on mobile phone driving law see this CU80 Conviction Code information.