Wellies, Waterproofs And Sandbags For The New Year
2012 Great Britain and Ireland floods so put on your wellies
You needed your wellies in 2012 United Kingdom and Ireland floods are a series of weather events that affected parts of Great Britain and Ireland periodically during the course of 2012. The beginning of 2012 saw much of the United Kingdom experiencing droughts and a heat wave in March. A series of low pressure systems steered by the Jet stream brought the wettest April in 100 years, and flooding across Britain and Ireland. Continuing through May and leading to the wettest beginning to June in 150 years, with flooding and extreme events occurring periodically throughout Britain and parts of Western Europe.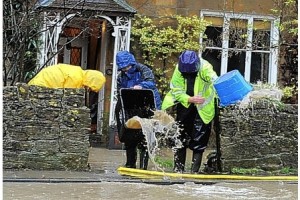 The Met Office issued severe weather warnings for much of England, including London, Wales and Scotland. As during the floods of November, it was Cornwall that first felt the brunt of the bad weather overnight on Thursday.
At Porthallow in Looe, in south-east Cornwall, the water was 2ft deep in the centre of the village in the early hours. Water had to be pumped from homes near Launceston, St Austell, Helston and St Keverne. Firefighters also attended a landslip at Ponts Mill, Tywardreath, near Fowey.
Cornwall council had more than 100 staff out helping emergency services and EA workers deal with the floods. A council spokesman said individual properties were being affected this time so far rather than communities.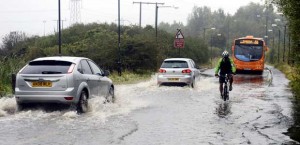 Wet weather proves a washout for sales of summer products
Shoe retailers have seen storming sales of wellies but have been stuck with sandals. At B&Q, sales of garden footwear such as Wellington boots and rubber shoes are up 97%. Shoe Zone has sold more than 115,000 pairs of wellies since the start of May – and a pair every 30 seconds since the beginning of this month.
Marketing and property director, said: "It's a shame high summer lines are still sitting on the shelves. We've had a great reaction to our welly boots range. Sales have been driven by muddy festivals, but it seems more and more people are wearing them every day now too."
How to Care for Newly Pierced Ears and Other Piercing
Pierced Ears and Other Piercing
An earring is a nice accessory for women and men. If you've just gotten your ear piercing, you'll need to know how to care for ears and the jewellery you use. Here are some tips to help you.
Use a cotton swab and an antiseptic to clean the earring and the area around the earring at least twice a day. Note: don't clean the area too much or your skin will dry out.
Your piercer should recommend an antiseptic for your ears (no chemicals should be used).
Even after a bath or shower you'll need to clean your ears. Be careful that no shampoo, conditioner, or body wash infects your piercing. As mentioned above, use a sea salt solution to disinfect your ear.
At night, don't sleep on your side. You want to be careful not to be unwanted pressure on your ears. This will take some time for you to get used to but you will have to cope with your new situation. It will be a couple of days, leading up to a month or two, before you can sleep on your side again.
Once your ears have healed, which will take 6 to 9 weeks, you can swap out your earring. Your piercing should be flexible enough to accommodate smaller jewellery, larger jewellery, or any other alternative you chose. Just make sure your initial piercing is completely healed.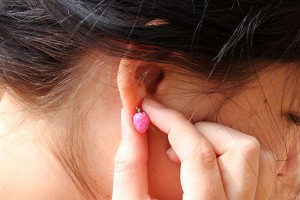 A few times a day (many people find themselves doing this all the time), turn your earrings so the piercing doesn't heal around them. If you don't turn your earrings, the skin will grow back in around the earrings and you won't be able to get them out. Make a point of doing this at least twice a day. If you do it more often (playing with your new piercing), that's fine. Turning them more is better than turning them less.
Be sure to leave your studs in for at least six weeks (recommendations will vary). If your piercing is having trouble healing – bleeding, crusting (make sure this is clear scabbing fluid and not pus), still painful, etc. – leave your studs in longer and continue to clean the piercings frequently. If your ears are healing well, you can remove the earrings after six weeks. However, continue wearing earrings most days, and stick with studs. Make sure the studs are hypoallergenic if your skin is at all sensitive. Wait a few more weeks, at least, before wearing any dangling earrings or non-hypoallergenic ones (until the piercing is healed even better).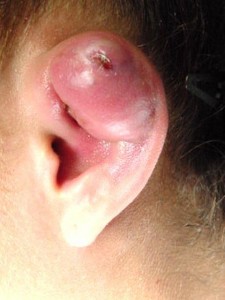 For more information and after care products http://www.powerlinesupplies.co.uk/